The performance artist talks to Sarah Bradbury about how her latest show contributes to the discussion of postnatal mental health
Published in The Independent on 3rd October 2018
Performance artist Bryony Kimmings has become known for boldly going where few others would with her provocative, autobiographical social-experiment-cum-theatre shows. From celebrity culture to feminism, depression to cancer, Kimmings fearlessly mines her own experiences for creative ways to tackle our most taboo topics, prompting discussion, outrage, and entertaining in equal measure.
She went through her own sexual history to trace an STI to its source with 2010's Sex Idiot, 2011's 7 Day Drunk saw her put herself in a constant state of intoxication for a week to see how it affected her creativity, while with 2015's Credible, Likeable, Superstar Model she created an alternative pop star with the help of her nine-year-old niece.
A Pacifist's Guide to the War on Cancer was, of all things, a musical, satirising how we deal with and talk about the disease.
It's a formula that works; her shows have taken her around the world and led her to set up her own business alongside delivering workshops, speaking on panels and appearing on TV. However in 2015, just as she was beginning to build her "empire," Kimmings almost lost her son, lost her partner, and as a result, also almost lost her mind.
When approached by Battersea Arts Centre with a commission for its "Phoenix" season to help relaunch the Grand Hall, which burnt down in 2015, Kimmings felt a kind of "serendipity".
"I already had in my mind a show that was called I'm a Phoenix, Bitch. I also love the venue. I remember it burning down the day I found out I was pregnant. It was ringing so many synergy points so loudly so it was like, 'I definitely have to do it in that building.'"
Her first solo performance in nearly a decade, the multi-media show is "very simply and plainly a story about postnatal depression. But also a story of what women do in the face of trauma," Kimmings tells me over the phone on a short break from rehearsals. "I think it's important to talk about postnatal mental health, because it is just so difficult a subject, but also the story of a woman who manages to pull herself out of tragedy is needed. I think that's politically a point I wanted to make just by the show existing."
As a kind of parallel to the Grand Hall re-emerging from the ashes, Kimmings wanted to present a fresh tale of a woman coming back from the brink on her own steam: "It's not Lady Macbeth," Kimmings explains. "I don't go mad and lose my mind and someone comes and rescues me. It's the opposite of that really.
"If you see postnatal depression played out in dramas, the woman ends up killing her kid or gets sectioned. Actually postnatal mental health is part and parcel of a huge change in your life. I wanted to talk about it without making it overly dramatic. To have the conversation about it and it be acceptable. But mostly also just to hear a woman talking about her experience and it not be reductive."
It's an unabashed feminist approach that seeks to overturn prevailing narratives she sees as fundamentally damaging to our cultural and political health: "If we keep telling the stories of these dudes that rescue everybody and sort everything out, that's when we get people like Donald Trump in power," Kimmings asserts. "Because we trust too much that one hero solves all problems when we should be looking at community."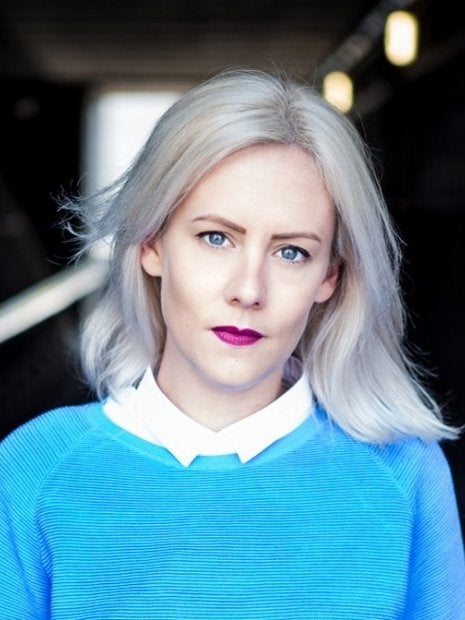 After recently reading Clarissa Pinkola Estés' Women Who Run with the Wolves on the hidden power of the female psyche, she wonders: "Imagine if we were living in a matriarchy? That would be amazing."
While the autobiographical has formed a signature style for the artist, has this piece – the 37-year-old's most personal yet – been a challenge or rather, provided a kind of catharsis? "It's kind of a long process always," she explains. "It begins with therapy and processing events and writing things that no one is ever going to see."
Only when this stage is over, does Kimmings contemplate creating a show. "I don't really like watching people noodling out their problems on stage. I think it's quite self-indulgent. For me, it needs to be one step removed, a performed version of what happened. It's like, 'ok, how can this become therapeutic for other people?' Then it's not really about me anymore, it's about the audience."
When I mention some of the weird and wonderful experiments that first brought her to the public's attention, from candidly exposing her sexual history to being drunk on vodka for seven days straight, she sounds reflective: "I forget that it's weird. I was writing a synopsis to epitomise who I was before all this awful stuff happened to me and it was like 'f***ing hell. I've done all this stuff!' I did 350 shows putting pubic hairs on my face in front of people around the world."
After the incidents of 2015, she now feels a disconnect from this past: "I don't remember being that confident. I think that's part of suffering a trauma and having had to re-examine everything you ever thought about yourself. That Bryony was super daring. I don't know what this Bryony is like – I think she's a bit more reserved."
This piece therefore denotes a shift the artist herself recognises has taken place in her own life and in the way she performs, though not necessarily a negative one: "Before, I might create things just for shock value or use real slapstick comedy to highlight something really political. With this one I feel like I crafted something that just encapsulates what it felt like and that's been really nice.
I'm not showing off, I'm not dancing and singing – well, except at certain points – it feels really truthful to the experience. And that's a real coup in terms of having confidence in your skills as theatre maker rather than, 'quick, put on a pubic moustache so everyone laughs.'"
But she hopes to have held onto her raw and distinctive style despite now having a much bigger production budget at her fingertips. "I hope that it keeps the sort of rough, really personable flavour that my early work has. It hopefully oscillates between the first layer of having a chat in my living room to 'my head's going to f***ing blow off from the scale of the theatre that I'm seeing.'
"I hope it's a collision of all the stuff I learnt from making a musical and then my spit and sawdust from cutting my teeth at the Bethnal Green Working Men's Club."
Now a single mother, there's also no denying that her priorities have necessarily changed: "I wanted world domination. I used to just pack a suitcase and f*** off where I wanted to. But now I'm a single mum. I just don't think men have to deal with that as much. They can still remain the auteur, the artist touring around the world whereas I have to think about making sure we can survive as a little family." That's not to say she doesn't hold ambition, only she perhaps plans less decisively for an uncertain future.
She still wants to make documentaries for TV and has co-written a screenplay with Emma Thompson for Universal – a London-set romance Last Christmas to be directed by Paul Feig of Bridesmaids fame.
As for how she sees our cultural future, she expresses hope, particularly when speaking and working with the young generation, who are "so much smarter – they demand more, they don't stand for any s*** in terms of gender. I feel confident that the mantle is being passed to people who are so much more aware of stuff we were scrabbling around trying to figure out for a long time."
However, she also warns against complacency: "I see people making lots of effort but the gatekeepers are still the same. I'm not going to let my guard down or close my eyes for very long. Because you know, as the great white male dies he's going to try and f*** everyone else up. He won't go quietly, we know that."
Bryony Kimmings performs I'm a Phoenix, Bitch from 3 to 20 October at Battersea Arts Centre 
By Sarah Bradbury. First published in The Independent on 3rd October 2018