This year marked the 17th edition of the Marrakech Film Festival. Under the helm of Berlin's Christoph Terhecte after a fallow year, the Red City's 2018 contribution to the ever-saturated cinematic calendar was an event to remember.
Countless names that have defined cinema over the decades graced the festival's red carpet, with Marrakech paying special tribute to Robert De Niro – in a ceremony presented by none other than Martin Scorsese – and Agnès Varda, as well as Moroccan actor and director Jillali Ferhati. Masterclasses were held with these legends plus esteemed auteurs Guillermo Del Toro, Christian Mungui and Yousry Nasrallah (hailing from Mexico, Romania and Egypt respectively), not to mention Cannes director Thierry Frémaux.
In competition were a range of first and second-time filmmakers and an all-star jury were put in place to make the difficult decision of who should be awarded the coveted Golden Star of Marrakech: namely Dakota Johnson, Lynne Ramsay, James Gray, Daniel Brühl, Laurent Cantet, Michel Franco, Joana Hadjithomas, Ileana D'Cruz and Tala Hadid – a majority of women for the first time.
After a 9-day competition, during which 14 films competed, the L'Étoile d'Or of Marrakech finally went to JOY by Sudabeh Mortezai, which follows a young Nigerian woman caught in the vicious cycle of sex trafficking, and which had also scooped best film at London Film Festival. The Jury Prize went to The Chambermaid by Mexican director Lila Avilés, Best Director went to The Toad by Serbian Ognjen Glavonić, Best Actor to Nidhal Saadi for Tunisian feature Look at Me and Best Actress to Aenne Schwarz for All is Good by German auteur Eva Trobisch.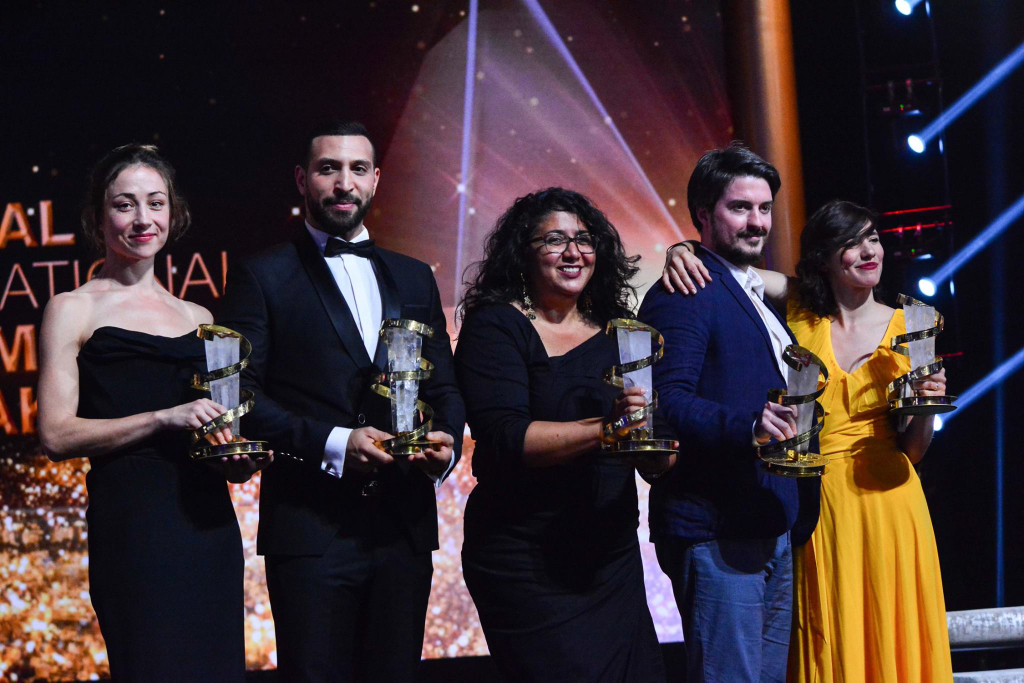 Moroccan cinema was also given a prominent place, with hundreds of professionals from the country's movie industry invited and 12 of the 80 films programmed for the official selection of native origin. The festival was also made accessible the public, with over 100,000 attending free screenings and events across Marrakech-based venues such as Palais des Congrès, Panorama of Moroccan Cinema, the Colisée and the stunning Yves Saint Laurent Museum. Special screenings were devoted to films from Green Book to Roma to Capharnaüm. Stars including Yousra, Laila Eloui, Martin Scorsese, Abdellah Ferkous, Bouchra Hraich, Laurence Fishburne, Aziz Dadas and Monica Bellucci introduced films to a standing public at the famous and bustling Jemaa el-Fnaa Square in the centre of the city, drawing a crowd of 7,000 to 12,000 each evening.
It was no surprise to see how such an array of talent were attracted to the event, the guests lavished with opulent parties and dinners, given a taste of the nation's hospitality, rich cuisine and five-star hotels while also being given the opportunity to experience authentic culture via the labyrinthine market streets and souks of the medina.
A star-studded and beautifully curated festival celebrating cinema and bringing together cultures in the heart of the stunningly blue-skied and lively Moroccan city, the 17th Festival International du Film de Marrakech was a delight from start to finish.
During our time out in the North African metropolis, we had the pleasure and privilege of speaking with some of the amazing talent there.
Master of cinema Guillermo del Toro sat down with us to talk about on monsters, Mexican filmmaking and upcoming feature Pinocchio, which promises to be a far cry from the Disney version. He also gave a masterclass in film, offering a vast array of insights into his directing career with personal reflections.
Robert De Niro spoke about being honoured in Marrakech and the joy of working again with Martin Scorsese.
Martin Scorsese talked about what drew him to cinema as a child, and some of the films which inspired him.
Mexican actor Gael Garcia Bernal chatted to us about his latest film The Accused, Latin American cinema, how he reflects on his vast range of roles and the political nature of film, plus his next directing project.
American actor Laurence Fishburne talked to us about Ant-Man and the Wasp, which had a special screening in Marrakech, his reflections on Stan Lee, the upcoming John Wick 3 and of course his role as Morpheus in The Matrix.
German actor and jury member Daniel Brühl talked to us about his Golden Globe nomination for The Alienist, its upcoming second season The Angel of Darkness and his other upcoming projects including My Zoe – with Gemma Arterton and Richard Armitage and director Julie Delpy – as well as his directing project and the Kingsman prequel. He also reflected on being typecast as a German actor, working with Tarantino, Stan Lee's legacy and Captain America.
Fellow Jury member and director James Gray told us about his views on film festivals – in particular, his relationship with Cannes and upcoming film Ad Astra, with Brad Pitt, Donald Sutherland, Tommy Lee Jones and Ruth Negga.
Laurent Cantet, also on the jury, spoke to us about his filmmaking career, including his Palme d'Or-winning 2008 film The Class, his latest feature The Workshop and his future projects.
Jury member, Mexican director Michel Franco spoke about his experience of being in Marrakech and the importance of film festivals, why it is that Mexican directors have dominated great cinema over the last decade – from Guillermo Del Toro to Alfonso Cuaron to Alejandro González Iñárritu – and his own projects.
Austrian director Sudabeh Mortezai told us about making film JOY, her time spent with Nigerian sex workers as research for the film and what she hopes to achieve with the piece.
We also chatted to Romanian director Christian Mungui about his career, what it's like being the first Romanian director to win the Cannes Palme d'Or in 2007 for 4 Months, 3 Weeks and 2 Days and why film festivals remain relevant.
Italian actor Riccardo Scamarcio chatted to us about on his role in Euforia, which was screening at the festival, working with Italian director Valeria Golino, the film's themes of confronting death, sexuality and his views on flirting being policed in a post-MeToo world. We also spoke with his co-star Valentina Cervi.
Scottish director Lynne Ramsay spoke to us about her critically-acclaimed 2018 film You Were Never Really Here with Joaquin Phoneix, her uncompromising approach to filmmaking, how the current moment is, in fact, a terrible time for women and female filmmakers plus a few words about her highly-anticipated next project, dubbed an "environmental horror."
The inimitable Agnès Varda gave us the privilege of her time, reflecting on her 60-year career, her approach to directing and how the industry has changed, particularly for women. She also gave a talk on filmmaking and was honoured with a special tribute.
Italian actress Monica Belluci told us how she felt introducing Asterix and Obelisk: Mission Cleopatra in Jemaa el-Fnaa for Marrakech Film Festival, her career-defining roles from The Matrix to Irreversible to James Bond, women's shifting place in contemporary society and the sad loss of Bernardo Bertolucci.
American director Julian Schnabel spoke about why he love's Morocco, and the chasm that exists between the artist and their art.
Filmmaker Kent Jones discussed the highlights of the festival year, including the awards he picked up at Tribeca.
Designer Christophe Guillarmé spoke about fasion at festivals on the red carpet .
Cannes director Thierry Fremaux spoke us about the festival season this year, how he is working to improve Cannes and why he thinks film festivals are still important.
Festival director Christoph Terhecte spoke about taking on the Marrakech Film Festival, how and why he took the job after years working at Berlin Film Festival, the highlights of this year and what he hopes to achieve going forward.
By Sarah Bradbury. First published on The Upcoming on 13th December 2018.
Photo: Sife Elamine/ Marrakech Film Festival
Videos: Sarah Bradbury
For more information about the Marrakech Film festival, visit their website here.