"I'm a Liverpool FC fan and I love Liverpool as a city," Loyle Carner explains to me ahead of catching a train up to the Northern city. "I've always felt like this kind of weird affinity with it. Because it seems to be a bit of an outsider. And I've always felt like a bit of an outsider. When it came about, I jumped at the chance."
The 24-year-old British rapper is talking me through his partnership with Levi's on the latest branch of a project designed to bring music education to communities where access has historically been lacking. Since kicking off in 2016, the initiative has gone global, with collaborators such as Alicia Keys helping to launch music technology classes in Brooklyn and Skepta working to establish a community youth music space in the heart of his hometown of Tottenham.
The project has now expanded up to Liverpool, spearheaded by Loyle who, although is a born and bred South Londoner, has always felt a connection to the place, which, he says in a promotional video, "was birthed out of rebellion. My dad was a United fan. And when I was growing up, I wanted to do everything that my dad didn't do." For him, the spirit there is "welcoming. It's like, 'come in.' It's like going back to a mate's house."
Having himself felt like an outcast at school, he always had a yearning to be heard. Now, since storming the music scene with Brit and Mercury prize-nominated top 20 2017 debut album Yesterday's Gone, he wants to help others also find their own voice: "When you have talent, you don't necessarily have the means to hone it," he says. As such, Loyle has been working with 15 students from diverse backgrounds in Liverpool as a mentor to help them develop as music artists: "It's about setting up access for young people in areas where they're not necessarily being exposed to recording studios or mentors, where the prospects are lower."
The project has partnered with Liverpool Lighthouse, an arts and music community centre in the heart of Anfield, to set up a fully equipped studio space for the community, with industry experts on hand to guide the students through the programme week by week. Loyle goes up as and when he can, to offer advice and mentorship, telling them, first and foremost: "How to be proud of themselves and how to believe in themselves. And then also to give them skills that are not only good for music but in terms of building a career of any sort. I'm just a small part of it, helping to push it along," he adds humbly.
He talks me through his students: "There's a kid called Remy who works as a sous chef in a restaurant and comes to the courses in the evening." Solomon, or SSJ, "is someone who had been caught up on the wrong side of stuff" and from who Loyle says music has become something that's helping him "plan for the future as opposed to planning for the next 10 minutes or so." Also among those he's mentoring is Kyle Owen, who goes by the stage name of Juvey, a 23-year-old from Ellesmere Port, Cheshire, "a lovely kid who's incredible" and who Loyle actually discovered himself: "A lot of the people had applied online but I wanted to see if I could find any other kids that weren't necessarily even clued up enough to know to apply. I found this guy who had one video online rapping." He was so impressed, he encouraged him to join the project: "He's just someone who lives and breathes writing music but doesn't seem to want to do it for anything other than just to do it. He's been one of the people I've enjoyed working with a lot."
Juvey later tells me he admires Loyle as, "a talented emcee. He's a wordsmith." He was keen to join the programme, "to learn more and be in a creative space with opportunities to network and further my music." He has a lot of pride in his native city as holding something unique in terms of its cultural heritage: "Scousers have a strong identity – if you go anywhere in the world you will be able to identify one speedily enough by their ketwig hairstyle and cheeky wit. It's a wicked city for music because of the Scouse rhythms pertaining to a rich mixture of influences. Scouse soil is already fertile – in such conditions, we can expect to grow a culturally distinct sound." And he certainly isn't one to be intimidated by barriers to the industry: "The main challenge is not breaking into music but breaking out of it once I'm in. I've got the music bug. I'm on a mission. Opportunities are created when creators have ideas to create opportunities out of their lack of opportunity. In the instance of the opportunist, there is no shortage of opportunities."
"It's about setting up access for young people in areas where they're not necessarily being exposed to recording studios or mentors, where the prospects are lower" – Loyle Carner
Another artist on the programme is Lydiah Highman, a 19-year-old folk-influenced singer-songwriter. She started out singing when she was little in school choirs and plays but really got interested in writing when she was 14 and learnt how to play guitar on her Dad's old acoustic. When she first heard about Levi's Music Project, she instantly signed up: "The project itself sounded incredible, offering the guidance and advice of industry professionals whilst networking and collaborating with other young musicians in brand new studio facilities." For her, working with Loyle, "has been an absolute dream. He is one of the most down to earth, genuinely nice people about and has been an amazing mentor. Although he is in a completely different genre of music to me, I really do resonate with his material. Lyrically he's very open and that's something I really admire since I try to do this with my own music. He's obviously got a real talent and it's been great to learn from someone like him."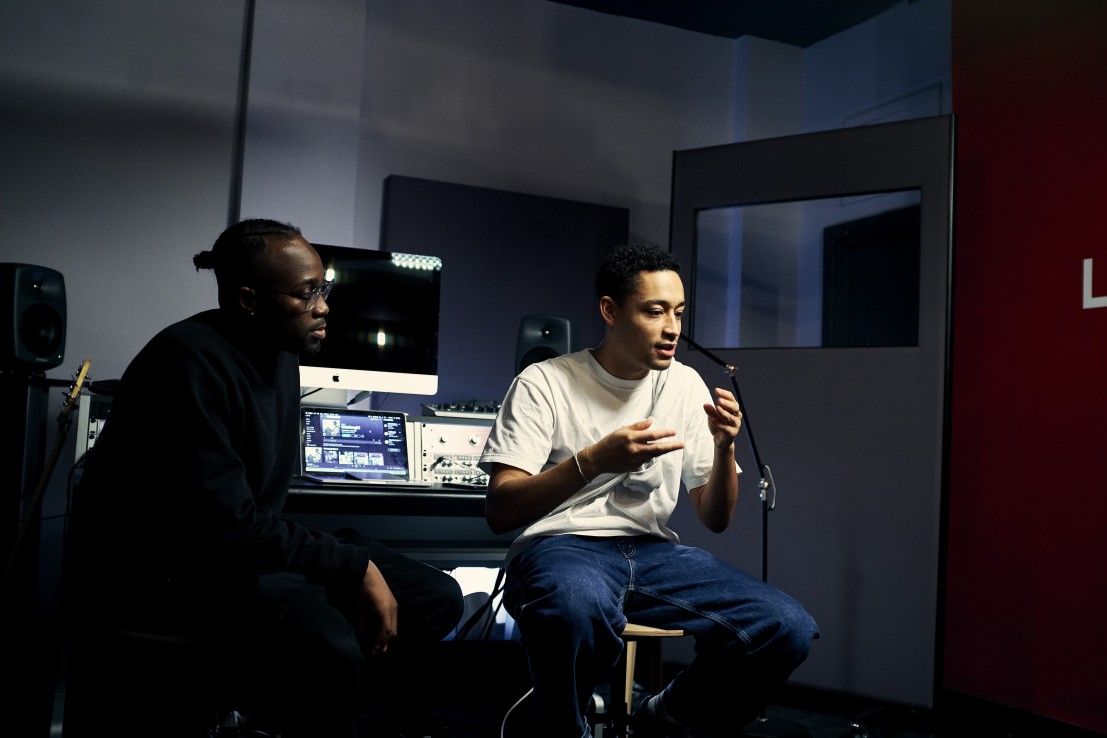 Loyle speaks passionately about the need to address the specific challenges women face in the music industry: "What's been cool, chatting to the girls at the project, is them having a space where they feel comfortable and not at the mercy of a producer, at the mercy of a sleazy label owner or whatever," he says. "For a long time, I think especially in the music industry, women were oppressed and young girls were oppressed because they weren't allowed to flourish without selling themselves in a certain way. You had to know someone who had a foot in the door. Now the internet is your foot in the door, you don't need someone to make music for you. It's liberating because you're in control of your own destiny."
He sees that while transformations in the way music is made and distributed make it easier to circumvent some of the traditional structures, barriers persist, particularly in terms of the way women look: "When you're able to transcend the way you look and be respected for your art, that's how it should be for all artists. You should be able to separate the face from the music. I think that's what's happening now for young musicians, more so for women, than it has been before. It is still an issue though. Attractiveness, the thing that drags people to music, means nothing. Music is heard. It's not seen."
In his own music, Loyle draws on a broad range of influences, with his idols ranging from Common, Mos Def, and Roots Manuva to Bob Dylan, David Bowie, and Prince. As yet untainted by the forces of the music industry, Loyle finds these young artists refreshingly open-minded and free from the constraints of working within a predefined genre or way of working: "The project brings together an eclectic mix of musicians and music – from folk to soul, jazz to blues, rap to electronic, techno and production, kind of everything – and what's been really wicked is they're really interested in collaborating," he tells me with enthusiasm. "They haven't spent long enough being put into boxes so they're able to work with each other really loosely. The beauty of it is the bending of genres." He sees his role less as didactic and more as a facilitator: "Really I just sit with them and allow them to work without interruption, just kind of push the conversation between them." And with the aspiring artists being given this unique opportunity to follow their passion, he doesn't need to work to keep them engaged: "The kids are so up for it. They really, really care about music. So it's not difficult to work with them. You're not forcing them to learn. As it's their own decision, it's a lot more fun."
In just the short time we have to chat, it's not hard to see why Loyle is perfectly suited for mentorship with his easing, amiable manner and genuine, contagious desire to instill self-worth in others. He emerges as an inspiring role model, having not only overcome personal battles with ADHD, dyslexia and the loss of his step-father to forge a successful career, but also broken down some of the persistent stereotypes that exist around rap music, its ideals of hyper-masculinity and undercurrents of misogyny and aggression. Loyle's sound firmly draws on the hip hop world – but his confessional storytelling reveals a refreshing sensitivity in its stark honesty.
Projects likes this highlight the need for greater support and funding – to reach those kids with an undiscovered talent who are never given the impetus to pick up an instrument or think about pursuing their music skills.
For him though, his music is return to something fundamental in the roots of hip hop rather than a reinvention: "It's interesting for me because I don't feel like I'm doing something new. I almost feel like I'm doing something that is ancient. The first idea of rap was words or poetry over rhythm. So it could be anything from guys playing bongo to the sound of bird song or whatever. So moving back to that is actually what I've been doing. I guess it seems innovative because it is something that's not happening right now. It's obviously my own take on it, looking through the lens of growing up in South London, but it's looking backwards to move forward."
Debunking stubborn stereotypes doesn't happen overnight though and Loyle notes a resurgence in the portrayal of rap music as being linked to gang culture, particularly in the context of the explosion in knife crime across the UK: "It's been a continuous conversation for years and years and years. The same conversation keeps coming up about how rap, hip hop, grime are inciting violence." We discuss how figures such as the artist and rapper Akala, who recently gave Piers Morgan a dressing down on Good Morning Britain, is helping to shift some of those perspectives around young black males: "It's nice to have people like him shed the stereotype bit by bit by bit. He studied maths when he was super young and got A*s and went on to get a Masters and a doctorate. So to see someone who looks like me doing that is enough in itself. And then after that he backs up his debates with all of this evidence, such as talking about knife crime in Glasgow and in London, and how, even though it's bad here, it's worse there – and Glasgow's like 95% white. So, it's like, how does that equate the problem to being a colour thing?"
He reflects on the power his own music has to open up important discussions around race and masculinity: "As you make music, that's the first half of the conversation. But then you continue that conversation with people on the road, on tour when you're at festivals and on the web. I can talk about how I'm emotionally available or understanding all day. But until you help break it down for someone who's in a situation where they cannot be, it's kind of worthless. What's been so special for me is actually having those conversations and showing people that you can be vulnerable without being weak."
"The project itself sounded incredible, offering the guidance and advice of industry professionals whilst networking and collaborating with other young musicians in brand new studio facilities" – Lydiah Highman, 19
His advice based on his experience is for the young artists he's working with to "find their own truth": "I think most of the only way to get noticed – or rather, making waves – is to not be doing what everyone else is doing. There's always a genre of music that explodes," he explains, using the example of J Hus. "You had him coming through with afrobeat hip hop, incredible music, and something that had never been done in the UK properly or hadn't been taken as far before. Then people go, 'well, that's doing really well, I'll do it as well.' But you're not going to notice the next guy as much as J Hus because he's the one pioneering the thing. He said his own truth, he was bringing the two parts of his life – the African side and the South East London side – together to culminate in this music. Wherever your truth is, that's what you have to portray."
His own story shows that digging deep and channeling your own life's challenges into your music is what can set you apart from others: "I tell them to make the most out of whatever you get. The best music comes out of hardship. For me it was easy and for some people it's not as easy to dig it out. But it's always there, no matter how well things start to go. It's all relative, right? I didn't come from a place of much money, but I had enough to get by. I lost my dad and I had troubles at school. But I had a mum who really loved me and I can't imagine what it would be like to have a mum who doesn't. If you're super rich but your parents don't see you at all and you go to boarding school, that is your truth. That's your hardship. That's the thing that you talk about."
He recalls that he himself benefitted from mentorship when he was rising through the ranks, such as, "Benjamin Zephaniah. He was a hero of mine. He helped me look at the way I was writing in a different way." As well as Kate Tempest, who he supported on tour in 2015: "She was a big inspiration for me. I loved her music but we also came from a similar place. She helped me understand the hard work and focus and patience you have to have. A big thing was not worrying about what other people are doing or how well you're doing but just knowing you're proud of your work – that will get you through when things are not going right."
It's a lesson that's stayed with him throughout carving his own career and one he is keen to share with his mentees: "You will still have these pieces of art that mean something to you, the music will be there forever. If the week it comes out, if it doesn't get, you know, 20,000 sales – which is the new million sales – it doesn't matter. Because it's still going to be there 10 years from now. You have your whole lifetime for it to generate any sort of success. So just be proud of it."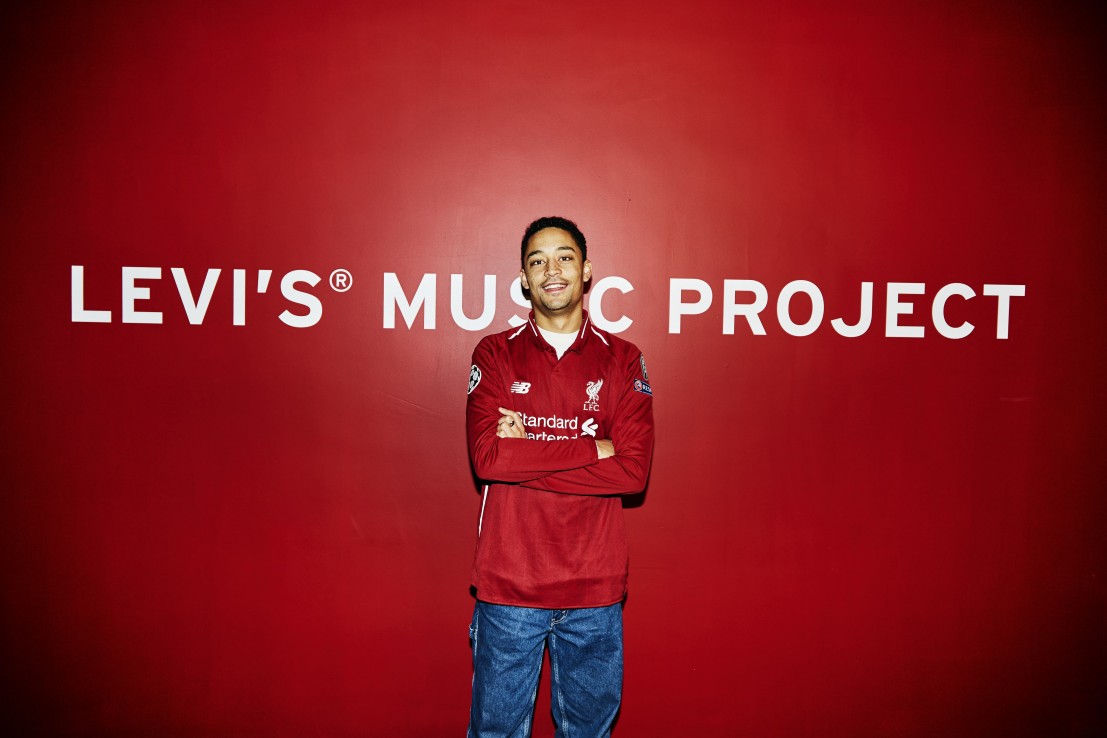 With the project well underway since last November, the students are now getting closer to a final showcase – the Liverpool Sound City festival – which Loyle is headlining and they will get to perform their acts at. It will no doubt be a baptism of fire for the musicians still in the nascent stages of their careers, but one Loyle is keen to push them to give their all to: "The first thing I want them to get is confidence, for them to feel like it's possible to do these things. Not to look at it and go, 'ah, if only I could be on that stage, if only I had it in me to pursue this thing.' Because you realise as soon as you start doing anything like this that it's really just about giving it a go."
He's learnt that, ultimately, you build your own luck: "Luck doesn't come about unless you do the hard work first. Luck then keeps coming because you're in the right place at the right time. What's cool with the students is seeing that kind of click. Realising – it's not like you can just sit at home all day and one day Jay Z will be like, 'I really liked your rap, come and be famous.' You have to be there, banging on his door."
He also believes performing to live a crowd, however much out of their comfort zones, will be key for the mentees in being able to take their music to the next level and make the most of the programme as a springboard to embark on their future careers: "I want them just to hone a craft and to understand how to perform it. It will be quite intimidating for them and intense. But that's how you grow. If you're just comfortable all the time it means you're not challenging yourself. You can quite happily live like that forever but you won't go anywhere else."
Though he does admit even for himself, after playing festival stages from mountain-based Snowboxx – where the cold meant his tongue stuck to the mic – to Glasto, "you never feel completely comfortable unless you're a maniac." And even he has had his share of mishaps: "I'm kind of famous for forgetting my lines. I just kind of freestyle and as far as I can…If they do crash and burn, it's cool, it's one time. No one will care in a week and they can learn from it."
Locating such projects in regional areas, Loyle reflects, is also important to break what could be seen as a London-centrism in the gig venues, studios and opportunities available to aspiring artists. And as the rapper points out, even your accent can present an issue: "The music that's mainstream is English but in the UK we often get used to hearing the London accent and anything else starts to sound kind of weird. Especially in hip hop it's a big issue because it's so spoken, it's so colloquial. But slowly, slowly people are kind of accepting that not everyone in the UK sounds like that." One of the mentees, SSJ, he highlights, "is a rapper and he has such a distinctive thick Liverpudlian accent. But he's incredible, you know, rightly so, why shouldn't he be?"
"I can listen to these kids at the project and talk to them about their problems and see if I can take some of the weight off their shoulders"- Loyle Carner
Supporting such "outsiders" in that sense is close to Loyle's heart because, "sometimes in rap I feel like the outsider because I don't talk about disrespecting women or doing this or doing that. It was nice to be in a place where other people are seen to be 'avant-garde' just because they have this accent or they have this way of thinking or this life that they live.".
Furthermore, projects such as Levi's initiative also highlight the desperate need for greater support and funding for arts education in schools and beyond, to reach those kids who may well have an undiscovered talent but are never given the impetus to pick up an instrument or think about pursuing their music skills. With both his mum and girlfriend working in education, it's an issue Loyle is all too well aware of: "There's such a lack of funding for the arts and it's dropping further and further and further. My mum teaches children who are dyslexic and my missus has a student in her class who has severe special educational needs. She spends half the time in her lessons with this one student because there's no teaching assistant. So the arts and support for special educational needs at schools are what's needed, particularly because the arts in turn are often a way to help children with special educational needs."
Loyle is also acutely conscious of the pressures upon the young people of today such as the need to be constantly available via social media: "It can really affect your mental health, having to have everything at the drop of a hat." A sense intensified when a musician hits success and becomes increasingly drawn into the public eye: "You can feel all range of emotions in thirty seconds on social media, especially if you've made any sort of success and you have all these DMs from people – one's getting angry, another's sending you a photo of them naked and all this sort of stuff one after another. And it's like, 'I don't want any of these, you know? Keep them, keep your thoughts.'"
He believes the industry should be doing more to prepare and offer counseling to help new artists navigate fame, with recent deaths from reality TV stars offering an example of the devastating consequences of failing to do so: "There should be a free space where musicians can be looked after and listened to. Because I can listen to these kids at the project and talk to them about their problems and see if I can take some of the weight off their shoulders. But that's like 15 kids. Think of all the other kids making music right now and then the ones that will become famous and how that will change their entire lives, how they could gain and lose everything at the same time and how that can affect them. If you put someone in the public eye it is then your responsibility to look after them. Because you often know what you're doing to them before they do."
In just a few short weeks, Loyle's new record, Not Waving, But Drowning, will be released. While mentoring others to pursue their dreams, has he reflected on his own measure of success? "Yeah, if I get stinking rich! Nah, only that I'm proud of it and that it can allow me to continue to do the things I want to do. If people who need to hear it, hear it. If there's certain songs that would help this person or that person. Because all the people I see as successful musicians have moved me or helped me through things in a way that I wouldn't have been able to do as easily without them. They've made their mark and helped lighten the load for other people. That's a bigger success.
"I've already done the small things I wanted to do, like paying my mum's mortgage and things like that. So now I just get to have some fun."
By Sarah Bradbury. Published on The Line of Best Fit on 1st April 2019
Liverpool Sound City Festival featuring Loyle Carner and the Levi's Music Project students will take place from 3-5 May 2019